"Zorro"
(sired by Blondo)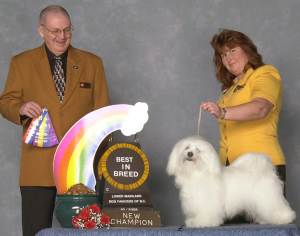 CHAMPION Los Gabatos Zorro
Best pup in Toy Specialty 2005
(French/Spain/Dutch) (CKC/AKC)

TOY SPECIALTY
2nd overall winner
multiple group placings
Reserve Best in Show

Proven Health Tested Stud:
Health testing: Eyes (Cerf) (OFA) Heart, Hips,
Elbows, Patella's and Leg Perthes, Blood tests.

Zorro is also the sire of:
Champion Reo (See Reo),
Champion Max (See Max)
Champion Sebastion (See Sebastion)
Champion Carmen
CKC Grand Champion MistyTrails Diego De La Vega (See Diego)

Zorro's Display OFA Records (health testing)

View Zorro's Pedigree
For a better copy of the pedigree or a photo pedigree email Bev at: mistytrails@uniserve.com

Click on the following to enlarge them.
Click on any of the following photos to elarge them.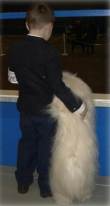 Son, Champion Poco Loco Jose winning puppy group, Jan 2010




Poco