Havanese Puppies available from Canadian Puppy & Dog Breeders in BC
Registered Havanese Breeders

These Havanese Puppy and Dog

Breeders can be found in
British Columbia, Canada
They will ship World Wide
Visit our NEW WEBSITE: MISTYTRAILS.ca
Ultra-Sweet 100% Pure Havanese Puppies for the Discerning Dog Fancier.
Specializing in QUALITY Havanese - raised with love - shown with pride!
Well bred, well socialized puppies available to approved homes.
Read an Article "A good breeder won't just provide you with a great puppy..."

See our Testimonials & Referrals page
Elite Havanese Featured in TopDogWeekly Breeder Profile Read article --->
Bev Dorma of MistyTrails Havanese - Nominated, Voted and Judged: Canada's Top Breeder - all breeds - 2015!! Click here to see the poster
---
---
About Elite Havanese
---
One of the Most REMARKABLE Breeding Programs in North America!
We are not a puppy mill, but we have more than 1 or 2 litters a year, so we have experience. Adults live in the community - in family homes not in kennels. All pups are kitchen raised, potty trained from 3 weeks on, and going outside by 7 weeks with a full time stay at home mom. They are crate trained to assist in separation and are socialized according to research to best give the pups the best start in life. Vet files are all open to public as are multiple vet's certifications, and multiple references. Annual online health testing and online pedigrees show no inbreeding. Visitors are welcome anytime, even with short notice.
---
Elite Havanese, offering Companion Pets, Show Dogs & Stud service.

Up until recently, Elite havanese has been very limited in selling dogs to show homes, keeping the pick of the picks for our own breeding program, and trading with some of the top breeders world wide. Trading our best, for their best. We are now in a position, after 15 years of selective breeding havanese, to confidently & proudly place some of our dogs in more approved show homes.

We have consecutively had the #1 male, &/or female in Canada, for a few years now. When we place a dog with you for show, it will meet all requirements for the Show Standard, and will have soap down pictures as well. Elite Havanese has 10 breeders working for a common goal. (to produce the healthiest pups possible). WE Love selling our Show Quality pups, as spay/neuter companions to Pet homes as well. Our Dams are not over bred, and live in our homes.
Elite havanese has also been limiting putting boys up for Stud
but as of January 2011, our boys will be up for Stud to Approved Dams.

We are into our 6th generation, and have Conformation/Structure, Health, and Temperments to a consistant level. We know what each boy is producing, and we have a much wider understanding of what is Behind and Beside each of our Guys. For more information on Stud Service, contact Bev.
Improving the Havanese breed is a labor of love for Emily & Bev Dorma, Gail Dame, and several others that we work closely with that are not on this site.

We have more than 20 years of experience in breeding dogs. We have enjoyed the company of these enchanting canine companions, first as owners and fanciers, and more recently as responsible breeders and exhibitors. We have teamed together not only our knowledge, but our lines. We enjoy each others friendship, and mentoring. Elite Havanese specializes in combining top conforming World Champion lines and pedigrees. Our breeding program focuses on breeding from top World wide Champion lines, with multi-Championship lines from 7 countries. Our Canadian Kennel Club (CKC) registered Havanese puppies are raised with love in our homes, where our dogs are first-hand members of the family. Whether for pet or show, our extremely well socialized Havanese puppies are sure to win your heart, and make a loving addition to your home and family.
We OFA health test ANNUALLY, not just at 1 year old.
Most of our breeding dogs have a web page, and ALL have an OFA page that lists their health testing.
It is important that ALL Breeding dogs are tested ANNUALLY for Patella's, Cardiac, and Eyes.
Many breeders do not test annually, Every tested dog should have an OFA page, that shows his testing and the results, ie: http://www.offa.org/display.html?appnum=1379816#animal
Dogs can acquire heart and patella issues as they get older, this simple annual test is free with your dogs annual check up, and Free to resubmit to the OFA for up to date certification.

Each breeding Dog has a Pedigree, you can view them on thier personal pages. Breeding is done with a lot of thought and selectivity.

To be part of the Elite Team of Breeders:

Your vet files must Also be open to the public
You must do Annual testing, OFA Certified
You must supply pedigrees, and no inbreeding
You Must disclose any health issues
Pups are not to leave your home until 8 to 9 weeks old, and have pre crate training, and be paper potty trained,
You MUST raise your pups in your main living area, They must have early social stimulation
Pups are not to be raised in paper lined puppy pens, or rack pens, where they eat, sleep, pee, poop. and play all in the same area. This makes Them hard to house train.
Pups that leave are guaranteed, and come with 6 weeks of complimentary ckc pet insurance.
We are all members of the CKC (Canadian Kennel Club) and all of our dogs, and puppies, are registered CKC.
Some are dual registered with the AKC (American Kennel Club) and all are eligible, for dual registration.

---

Click on these links to visit each of us, and find out more about us.
'EXPERIENCE' for your BENEFIT
I am Bev Dorma, and I am privileged to be a stay at home mom, raising my family in the beautiful Shawnigan Lake, Cobble Hill area. I have been breeding Havanese for over 16 years, and before that Bloodhounds for Search and Rescue, and whelping puppies in our community for several other breeders & helping at the Vet office has given me Valuable Experience.

MistyTrails has received some of the Highest Honors,
Winning Westminster, the most prestigious dog show, in 2012
Winning Best Female at the Eukanuba USA Invitational.
Winning Best of Breed at the Nationals and several toy Specialties
Winning 5 Best in Shows in 2012 and having the top male, &/or female havanese in Canada for the past 6 years puts me in a very proud position, and has pushed me to breed better and better.

The above has also given me the privilege of understanding what the public wants. They want a WELL socialized-well adjusted, Well Raised, Well Bred for longevity, companion pet with minimal to no health issues, from a breeder that has high goals, and is Fair, honest and approachable, and always there, even after they get their puppy for support. A breeder that welcomes them to visit puppies as often as they like and ask as many questions as they want.

I listen carefully to people, and try my best to match the perfect puppy with the family. Taking the personalities of both into consideration. I treat them as if they are family, (as they may be if they take one of my puppies), and the rest just happens.
---
---
"Bev, you currently have 4 of the top-ranked 15 Havs in the country.
No other breeder has more than 2 dogs in the top 20. Congratulations! Misty Trails rocks! :))", SB

2009 Show Results
4 top Dogs, including #1 and #2 in the Country
Cruiser #1, Tango #2, Reo and Reddi

2010 Show Results
Tango #1 Male, Reo #1 Female, (error on page, we are #1, and have certificate),
Eddie, MoJo, and Mandi Callunavias Ars Amandi

2011 Show Results
Reo #1 female (so far), Tango #3 male (limited shows), Jo and Tory
---
---
We breed show Quality pups for pets!


2009 Proudly showing the two top Havanese in Canada.
View the Best Dog in Canada web site here

2010, #1 Male in Canada TANGO, and the #1 Female REO.
*******************
2011 #1 Female Havanese in Canada
See Reo, www.canuckdogs.com

Reo Also won Best Female in Canada at the Regionals, and Best Female in USA at Eukanuba Nationals, and went on to Win BEST Havanese OVERALL at Westminster
********************
2012 Eddie and Riley #1 and #2 boy Havanese in Canada
---
---
Health Information
At Elite Havanese, the health, longevity and well-being of our Havanese puppies, and the ultimate satisfaction of our puppy buyers are our first and only concerns.

We take very careful measures to ensure that all of the Havanese dogs in our breeding program are completely healthy and free from hereditary disorders prior to being bred. Our dogs undergo a thorough veterinary examination, including Annual CERF, Cardiac and Patella screening. There is no evidence of Luxating Patellas, nor any chrondodisplasia, Heart displasia, or eye, skin or gastro problems.

Our breeding dogs are carefully chosen, and are selected from litters as pick of the litter pups. We chose top conforming, and winning temperaments, for our show/breeding dogs.

Vet files are available. References are readily available on line.

Isoflurane, though more expensive, is extremely safe, and is not metabolized in the same way as halothane or methoxyflurane. Wakeup is almost immediate once the medication is discontinued. Isoflurane is generally the anesthetic of choice for Havanese. Discuss this with your Vet.

Our Havanese puppies are vet-checked and vaccinated, and come with a veterinary health certificate and comprehensive health guarantee, details of which are provided in our sales contract. Our puppies are also placed with 6 weeks of complimentary health insurance, pre activated.

If you have any questions about our breeding program, please do not hesitate to contact us by email or telephone. We look forward to hearing from you!

PRODUCED By: owner of Dam. (MISTYTRAILS HAVANESE) Bev and Emily Dorma
CHAMPION MistyTrails Cruise Control
CHAMPION MistyTrails TillaRouge
CHAMPION MistyTrails Ms Chevious DelSol
CHAMPION MistyTrails Double Stuff'd OREO
CHAMPION MistyTrails Princesa Jaz
CHAMPION MIstyTrails I love Lucy
CHAMPION MistyTrails Splash of NRG
CHAMPION MistyTrails Latin Lover (Desi)
CHAMPION MistyTrails Endearment O'Chica
CHAMPION MistyTrails Wyzr'd
CHAMPION MistyTrails Lorwin Bella Nina
CHAMPION MistyTrails Walking on air
CHAMPION MistyTrails Maxamillion
CHAMPION MistyTrails Elite Dutch Prince Sebastion
CHAMPION MistyTrails Strut'n Tuxedo man
CHAMPION MistyTrails Seans Don Diego
CHAMPION MistyTrails BlackSambuca
CHAMPION MistyTrails San Jose d'Cuba JOE
CHAMPION MistyTrails ByEmmy Emalidatree
CHAMPION MistyTrails MasCara
CHAMPION MistyTrails Harry Potter
CHAMPION MistyTrails Catreeya ByEmmy
CHAMPION MistyTrails Arklands Real McCoy
CHAMPION MistyTrails Shakespeare DelSol
CHAMPION MistyTrails Dest'nd 2 Paradise
CHAMPION MistyTrails SalidaDelSol Bonita
CHAMPION MistyTrails Dancing the Tango
CHAMPION MistyTrails Wild Willy's lil Red
CHAMPION MistyTrails Hannah Montana
CHAMPION MistyTrails PJ Picasso
CHAMPION MistyTrails Lady I'm No Tramp
CHAMPION MistyTrails RED Hot Mojo
CHAMPION MistyTrails Uno Max Graham
CHAMPION MistyTrails Ebony n'Ivory
CHAMPION SalidaDelSol MistyTrails Santino
CHAMPION MistyTrails Smilla For Sweden
CHAMPION MistyTrails Joy For Isparlans
CHAMPION Keopah's Nanuk of MistyTrails
CHAMPION Eddie Murphy at MistyTrails
CHAMPION BG MistyTrails Contessa n'Paradise
CHAMPION Mistytrails Havanangel DelSol (2010)
CHAMPION MistyTrails Arklands Desi Arnaz (2010)
CHAMPION MistyTrails Arklands Bear with me (2010)
CHAMPION Keopah's Nanuk d'MistyTrails
CHAMPION MistyTrails Grant Me Perfection
CHAMPION MistyTrails SalidaDelSol Elite
CHAMPION West Side Story at MistyTrails
CHAMPION MistyTrails Promis'd t'Paradise
CHAMPION Red hot T'Molly
CHAMPION MistyTrails Street Car Nam'd Desire (Stella)
CHAMPION MistyTrails Carmella D'Perlas
CHAMPION MistyTrails Victoria's Secret
CHAMPION Rambo
CHAMPION MistyTrails Bopcha's Jo.E (2012)
CHAMPION MistyTrails Secretariat (Tari) (2012, Eddie Son)
CHAMPION MistyTrails Sunshine Of My Life (2012, Eddie Son)
CHAMPION Keopah's HavaShiraz At MistyTrails (May 2012, Elvis/Tilla Daughter)
CHAMPION MistyTrails Bopcha's Momma Mia (Aug. 2012)
CHAMPION MistyTrails Keopah's High Spd Wifi (Aug. 2012)
CHAMPION MistyTrails Honey I am (Aug. 2012)
CHAMPION MistyTrails Jersey's Pauly D (Aug. 2012)
CHAMPION MistyTrails Keopah's Go'Diva'Lishus, (Oct 2012 Tradex)
CHAMPION MistyTrails Diego De La Vega (Oct 2012 Tradex)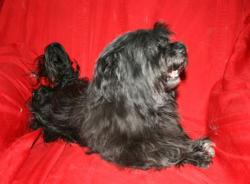 Misty at 10 years old
Four generations - left photo - from right to left:
Foundation MISTY, Grand Daughter Catreeya, Great Grandaughter Conchita, Great Great Grandaughter Reddi

---
Our Mother / Daughter trip to Hawaii, and YES we did a 3 day dog show when there, plus much more ...


We like to have fun, too! We travelled to Hawaii in September, 2009, where Emily showed Destiny see Destiny and where Rodeo see Rodeo was also showed. We did a lot and saw a lot - see some of our Hawaii Photos.