Havanese Puppies available from Canadian Puppy & Dog Breeders in BC
In Canada, Havanese Puppy and Dog

Breeders can be found in
British Columbia, Canada
They will ship World Wide
Ultra-Sweet 100% Pure Havanese Puppies for the Discerning Dog Fancier.
Specializing in QUALITY Havanese - raised with love - shown with pride!
Well bred, well socialized puppies available to approved homes.
---
---
Gail Dame of Seantiago Havanese, Crofton, BC, Canada




TEAM Seantiago ... So who are we anyway?

Team Owners: Gail & Frank Dame
Home Stadium: Crofton, BC (on beautiful Vancouver Island)

OK, so it all dates back to a family reunion umpteen years ago. One of those thrice-removed kind of cousins came up from the US with two of the most beautiful dogs I had ever seen. She called them blue Havanese (to which I responded Blue-Have-A-WHAT?) and I instantly decided I had to have a have-a-nese. Now, I may have been a bit over-interested ... maybe I asked too many questions ... whatever the reason, our American cuz got nervous and hid her beauties in her motor home for the rest of the weekend, leaving me without a contact name or number.





Flip forward a few years to the home of my good friend Bev Dorma when she brought home ... yup, you guessed it, a heart-stealing Havanese puppy! I was hooked! Over time she began to mentor me, and with her support we entered the toy dog world.



After the tragic death of our 18year old son Sean, Bev encouraged us to take on a breeder's role. A family conference decided on the name Sean tiago, and what began as a therapeutic adventure evolved into a total new life-style! What can I say? Our family has gone to the dogs!





I almost forgot! There was another family reunion last summer ... and we took our beautiful Havanese kids with us.. Did we hide them in a motor home? No way! They ran, played, snuggled and enjoyed themselves almost as much as everyone enjoyed them. But why not? They are part of the family ...
We showed Zorro and Diego, to Champion, and they live with us.
We are now showing Salsa and we are also showing Bella.


Zorro's Championship


Diego's Championship


Showing Salsa


Showing Bella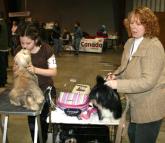 Gail & Frank Dame
Seantiago Havanese
Crofton, BC
This website built and maintained by MSR Web Design at Meadow Springs Ranch