"Sadie"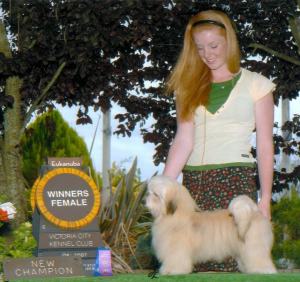 Champion SalidadelSol Misty T's Gabatos

Breeder: Alida Wasmuth
Owner: Emily Dorma, Diane and Joniah Wilbee
Shown by Shannon Rehsler
Live with Diane

Pedigree:
Blondo (spain) (see Blondo)
Salida (Cuba)

Sadie's Display OFA Records (health testing)

View Sadie's Pedigree
For a better copy of the pedigree or a photo pedigree email Bev at: mistytrails@uniserve.com

Click on the following to enlarge them.



at 8 weeks

Sophie

Sadie's daughter, (four left photos)
MistyTrails Keopah's Oreo Rose, is Sadie's Pick Female puppy.
See her father, Tux here: See Tux
Joniah and Diane will have her in the ring this Spring 2009
Click on any of the following photos to elarge them.