"Lucy"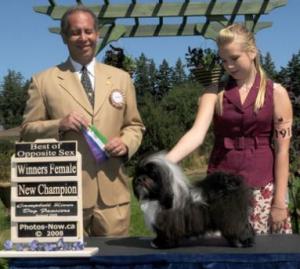 Champion MistyTrails I love Lucy

Daughter of Lola and Tux

Pedigree:
Dam: Lola (See Lola)
Sire: Tux (See Tux)

Lucy's Display OFA Records (health testing)

View Lucy's Pedigree
For a better copy of the pedigree or a photo pedigree email Bev at: mistytrails@uniserve.com

Click on the following to enlarge them.

Spencer
Lucy X Rodeo pup. Won a Group 3 at the Tropical Match
Click on any of the following photos to elarge them.