"Jaz"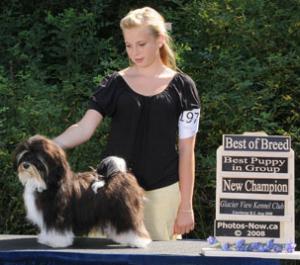 Champion MistyTrails Princesa Jazmin

Daughter of Truffles and Tux

Pedigree:
Dam: Truffles(See Truffles)
Sire: Tux (See Tux)

Jaz's Display OFA Records (health testing)

View Jazmin's Pedigree
For a better copy of the pedigree or a photo pedigree email Bev at: mistytrails@uniserve.com

Click on the following to enlarge them.
Click on any of the following photos to elarge them.









Jaz and Sebastion puppy. MeiMei, 3 weeks


Jaz x Rodeo puppy - Ralph. Won Best of Breed and Group 4 and he is only 6 months old.