"Atti"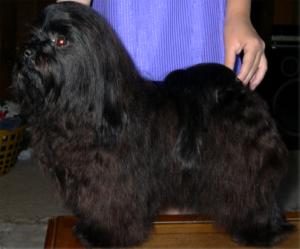 MistyTrails Strut'n Attitude

Pedigree:
Dam: Catreeya (See Catreeya)
Sire: Wiktor

Dam to:
Champion MistyTrails Ms Chevious Del Sol (Naughty) (see Naughty)
Champion MistyTrails Shakespeare DelSol
Champion MistyTrails Dancing the Tango (see Tango)


Atti's Display OFA Records (health testing)

View Atti's Pedigree
For a better copy of the pedigree or a photo pedigree email Bev at: mistytrails@uniserve.com

Click on the following to enlarge them.
Atti and her human mommy ... whom gave her a great haircut.
This is true Love !! A real Bonding!
Click on any of the following photos to elarge them.







Group 3rd for Tango
son of Atti