It all started 11 years ago with Misty
She is now retired, yet despite her age, still runs around like a pup . Misty is a dearly loved member of our family.
We bred Misty to Hadassah Kiki and had Moca, Ceiba and Buca.

pictured left to right,<Ceiba,< Quito,< Moca, <Misty

Buca
Another addition to our growing family was a Cuban import, Quito.
Quito was shown and received his championship, but eventually was placed in a pet home.
It was my desire to breed top quality Havanese, combining temperament, health and beauty, and although Quito had the much loved Havanese temperament, a great front and bite, he also had a poor coat, a weak rear and the famous Cuban hop skip. So, as hard as it was, we had to let Quito go. He has the most awewsome home.
Then I met Small Haven Chester:
We showed Buca to champion, and bred Moca and Ceiba to Small Haven Chester. From the Chester and Ceiba breeding we got our fun loving and stunning Ch. MistyTrails Champion CATREEYA, BPIS BISS. http://www.elitehavanese.com/catreeya.html My long time mentor and friend, Alida, kept Catreeya's sister MistyCasalida. http://www.elitehavanese.com/conchita.html

Chester

Catreeya
Catreeya is the Dam of:

Champion Tux (See Tux) Champion Reo See Reo
Champio Max See Max Champion Salsa See Salsa
Champion Cruiser See Cruiser

#1 female in Canada -#2 overall

We bred Casalida to Blondo De Los Gabato which produced Conchita. Recently, we bred Conchita with Mucho Bravo Heartlands Piper and from that breeding we are thrilled announce, FOUR show quality puppies: Ch Bonita Ch Destiny Ch Spooner and Reddi http://www.elitehavanese.com/females.html
The addition of Chester into OUR Havanese family has significantly influenced OUR breeding program today.
His daughter Catreeya became THE STANDARD and turning point of our breeding program,
Catreeya: FINALLY on top of health and temperment, we had Breed TYPE.....
Catreeya became a champion quickly. She won a toy specialty where the judge put her on a table, in front of the crowd, and said, "FINALLY, this is what a havanese should look like !!"That was a proud day.
THERE WAS NO holding us back now….!! WE had a taste of recognition and felt very proud of improving the breed. WE had some great mentors too.
Due to the fact that Catreeya was so stunning, we wanted to breed her to another exceptional Havanese, but who?
After much research, WE decided that Swedish Wiktor would be her perfect match. Impressively, Wiktor holds 7 titles in 7 countries, and has a history of good health, sound temperament and conformation.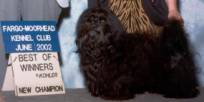 Multi Country Champion Smedtjarns Wiktor.
Breeding Wiktor and Catreeya produced one of our top our Stud's, TUX.
Ch. MistyTrails Strut'n Tuxedo Man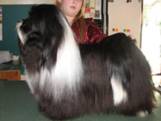 http://www.elitehavanese.com/tux.html
Tux consistently throws himself or better, as is evident in his offspring:

CH Desi see Desi page CH Wyzrd see Wyzrd page
CH Splash see Splash page CH Chica see Chica page
CH Lucy see Lucy page CH Jaz see Jaz page
And there we have MistyTrails. 5 generations.
Misty, >> Ceiba, >> Catreeya >> Tux, >> Jaz
Jaz has just had her first litter, so that is generation #6
We have had NO Health problems, from this line,
NOW we did add a few other awesome bloodlines on the way.
We LOVED the way Holland, Spain, and Sweden bred, with mandatory
Showing and health testing, so we added Spain Blondo de los Gabatos
Blondo http://www.elitehavanese.com/blondo.html
Blondo produced,
CH Los Gabatos Zorro (Read More)
CH SalidaDelSols Conchita ByEmmy (Read More)
CH SalidaDelSol's MistyTrails Lilly (Read More)
CH SalidaDelSol MT's Rodeo By Emmy (Read More) #4 Toy Dog in Hawaii, #1 Havanese
CH SalidadelSol Misty T's Gabatos (Sadie) (Read More)
CH MistyTrails TillaRouge (Read More)
CH Ms Chevious DelSol (Naughty) http://www.elitehavanese.com/naughty.html
CH MistyTrails Shakespeare DelSol
CH MistyTrails Arklands Real McCoy (Mac) http://www.elitehavanese.com/mac.html
MistyTrails Dancing the Tango
From Blondo, we got Zorro, and then from Zorro I bred Sebastion.
Sebastion was also another Major improvement that we produced, whom also produces better than himself.
So not only from the Mistyline we are down 6 generations, but down from Blondo
We have Blondo > Zorro> Sebastion > Cruiser (4 generations) soon to be 5.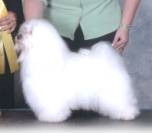 http://www.elitehavanese.com/sebastion.html

So, this gives you a bit of history, of where we have come from, and the improvement to the breed for the last 10 years. I am very fussy on heads, and proper bites and all teeth, I will only breed straight fronts, etc. I get quite creative in my breedings, and it is fun to see them workout as I have imagined. My Style has greatly changed from my very first litter, 12 years ago, I figured they were ALL show quality… grin… Now I am very very fussy, and proud to say most of the dogs sell for pets, and could easily be show potential
Starting with Bloodhounds, I bred for the Police dept. 20 years ago, has shaped my views of what makes a good dog - of any breed, they were very fussy, and I learned that you CAN make good dogs. WE bred and owned the #1 female bloodhound in Canada.
You will see some other dogs, and pedigrees that we have added over the last 10 years, they come and go, as IF a dog produces health problems, they are eliminated from our breeding program. Also, is people we work with, are not doing testing, or not disclosing health problems, we breed away from them. I will not work with people that do not breed with the Havanese best interest at heart.
Joe we have added and kept,

JOE http://www.elitehavanese.com/joe.html,

Joe is out of Chambolina, a pure Cuban import and bloodline we have tried to secure. Chambolina is of Exceptional temperment.
http://www.havanesegallery.hu/show_dog_en.php?id=23095
WE have a couple other Cuban lines that we have secured, (Celine and Corizon) and are about to introduce German lines.
NOW for a bit about who & where we are: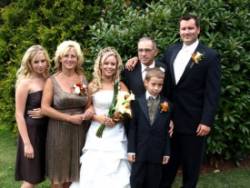 Emily, ME (Bev), Taunya, Stan, Kayden, Troy
http://www.elitehavanese.com/bev.html about us
Emily is into junior handling, : http://www.elitehavanese.com/junior-dog-handling/
My hubby is in full support of what we do, and actively participates in everything but the showing, and whelping. He Loves the puppies, and doesn't mind the clean up.




we camp we fish we boat we catch






we go prawning Mexico, crabbing CostaRico, Nicaragua -- Tarpon
OUR HOME< front yard.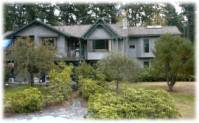 behind the house is 2 acres
Living with us. Is Spayed Grandma Misty
MALES STUDS: Our 2 boys, Ch Sebastion & Ch Tux
Females DAMS Catreeya, Conchita, Reo, new: Reddi and Hannah.
(Lucy and Jaz are with Pam in Hawaii) Destiny goes next month
MOST Of our breeding dogs, live with families. I rarely sell off retired breeding dogs, but IF I have a dog I want to keep open and part of my breeding program, I will have them go live with a family, usually a family that I have gotten to know, as they own a pet, and want a second havanese for free.
I will bring these dogs back for showing and maybe a litter or two.
Many of our photo's are pictured on www.dogbreedinfo.com plus, I am called by various people and vets, to play mid woof. In our area, so I have gathered pictures from them, and other breeders all over.
Pregnancy and Whelping Guide www.dogbreedinfo.com/whelpingmain.htm

Dog Grooming Tips
www.dogbreedinfo.com/showdogs/showing.htm
www.dogbreedinfo.com/showdogs/grooming.htm

Dog Care www.dogbreedinfo.com/care.htm
Whelping and nursery Facilities: is our home, (main living area)
Pups are born in a private room, and kept there, warm, and draft free, for the first couple weeks. I sleep in this room before and after whelp.

head

breach
At 3.5 weeks they are paper training, AND getting it.!!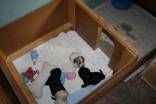 pups potty on paper already

pups spend from birth to 4 weeks in this warm room, This is a 10 x 10 room off the playroom

plus the spend the nights in this room.

By 5 weeks they are in the playroom, right off our Kitchen. Next to the older dogs.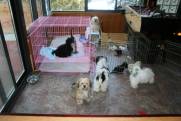 < photo taken from kitchen opening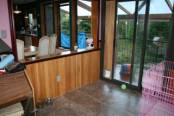 By 7-8 weeks, they are using the doggie door, to go out to eliminate, and playing with the big dogs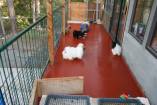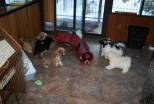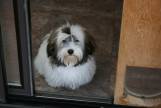 the doggy door off the playroom, goes to a large covered deck, and potty station. After 8 weeks, pups eliminate outside.

nice summer days =

ON Nice days, the dogs are let out into the yard, 6' fenced, and 2' dug in the ground and they run like crazy. As as we have eagles, cougar, bears and other predators I own 2 Mastiff's that keep them away, and babysit the havanese.
Our dogs and puppies have access to our non carpet -- surfaced floors in the house, and are gated off from the carpeted areas - with supervised often exceptions.
Our adult dogs are rarely crated, they have their own crates, with the doors taken off, they are crate trained as puppies and travel in the truck in individual crates. At dog shows and camping they are also crated. I LIKE and believe in crate training.
sometime dogs DO EAT the kids homework !!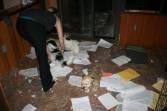 LOL

the all LOVE to play with the cat KALLIE,

and are given daily one on one time, in the living room.

All pups get daily time in a crate, Kallie visits them.

And then prior to going to new home, they are separated from their littermates, in xpens, usually in the kitchen.

Pups go to new homes with a scent toy.

In the summer they swim supervised in our pool

IN THE WINTER, when it snows, they have a 30' x 30' Roofed enclosure,
To get outside exercise and potty. Or when it is RAINING., which is often.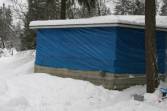 the Tarp comes off in summer, the snow was blowing INSIDE< so we tarped it. This is new + Wonderful, it is like a HUGE Xpen, covered.

this is how/where I separate dogs and bitches in heat..
WE live on Vancouver Island, where it is RAINING A LOT, so we cannot leave the dogs out all day, just letting them out to potty means a day of drying,,, so we have adapted.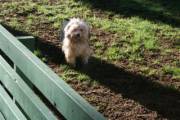 <we try to avoid this, with this. >>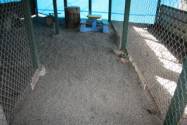 Training facilities, IS MOSTLY our kitchen, (that we are renovating), and our yard,
And handling classes. Local breed clubs and Sanction Matches. Emily does most of this.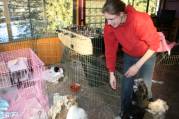 19 year old Rhiannon comes over once a week, whether I need her or not, and just does whatever, baths, plays, weighs pups. She is a vet student at university, and also my house sitter, for when I am at the dog shows.

Paige Wilbee comes over quite regularily to play with pups. Emily also mentor's her and her sister in Junior handling.

My friends often bring their kids. So I get lots of socializing.

When the kids watch TV there is almost always a dog or pup on their lap

there are always kids wanting to play with pups.


Bathing and Grooming :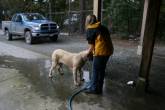 large dogs have hot water hose outside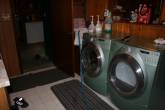 I groom each dog every other day with a line groom comb out, and bi-weekly I bath and blowdry and do a show groom and clean their teeth. Monthly I pluck ears and clean, trim nails, trim out slipper feet, and what ever else they may need. I could say on Any given day, I could have a spot check from Animal Control, and I would pass with 100%.
Most of my major grooming is in the summer, teeth scaling, while I sit by the pool and supervise.

Mastiff is my other breed, and really just my havanese babysitters, for outside time, and for Emily…. They keep the predators away, and love havanese.





I have rescued a min snauzer for the vet, but homed her at a year.
Pups are assessed at 8 weeks for temperaments and show potential.





For breeding, I need a complete package, starting with health, structure, and movement. A properly put together dog, will move correctly. I want the dog to conform to the standard and have awesome temperaments. I love a nice head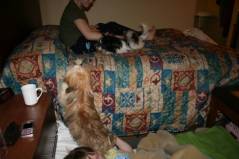 .

we have annual group CERF clinics